Gary Robb's property fraud victims in £1.3m payout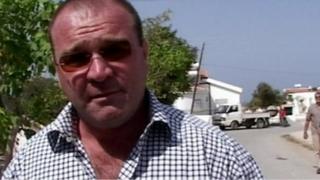 A Teesside property fraudster has been ordered to return £1.3m of his assets to his victims in a court ruling.
Gary Robb defrauded 57 people into buying houses through his property business, AGA Developments.
The 52-year-old failed to complete a single house in the Amaranta Valley development in northern Cyprus.
Now civil recovery action at the Royal Courts of Justice against Robb, has led to about £1.6m of assets being frozen and £1.3m shared among his victims.
Robb went to live in Cyprus in 1997 after his Colosseum club in Stockton was raided by drugs officers the previous year.
He set up AGA Developments in 2001 and took payments of up to £100,000 each from predominantly British customers.
In January 2009, Robb was deported to England for "firearms offences" and he was re-arrested when he arrived at Stansted Airport.
He was jailed for five years after pleading guilty to conspiracy to supply drugs.
Following his custodial sentence, he was extradited to Cyprus and was sentenced by authorities there to 11 months for illegal use of the land for his property development.
Victims of Robb submitted a joint claim with help from the National Crime Agency (NCA) who helped trace back the money they had invested to Robb's frozen fund.
The funds were awarded at the Royal Courts of Justice on Wednesday.
NCA economic crime command director, Donald Toon, said: "Achieving today's result has taken a determined effort over several years.
"The NCA will be patient and persistent and will continue to use every tool at its disposal to disrupt criminals like Robb and deprive them of the assets they acquire through crime."