Teesside GP services' pressure 'eased by matrons'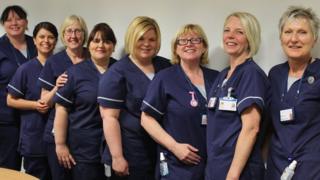 Community matrons have helped ease the pressure on hospitals and GPs, health bosses on Teesside have said.
The claim comes three years after South Tees Hospitals NHS Foundation Trust introduced a service using nurses to assess patients in their own homes.
In January, this was expanded to include matrons, who offer more advanced clinical skills and develop management plans for patients' care.
It has led to an estimated 3.9% drop in emergency admissions, bosses said.
The 18 matrons also work with the integrated community care team for patients who require long-term care.
Val Gair, from the trust, said: "It's easing pressures on the system as GPs don't have to be called out or admit the patient to hospital.
"Previously, around 75% of these patients would have ended up going into hospital."
Dr Ali Tahmassebi, from the programme, said: "The additional expertise brought to the team by community matrons enables more of our patients to be supported at home rather than be admitted to hospital unnecessarily."