Bishop Auckland union railway banner goes on display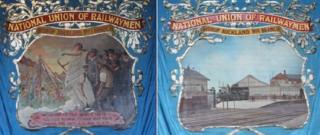 A reminder of Bishop Auckland's railway heritage has gone on display for the first time in 50 years.
A railway banner once paraded during the 1926 General Strike is being shown at Auckland Castle.
Recently discovered in storage at the National Railway Museum at Shildon, it belonged to the Bishop Auckland branch of the National Union of Railwaymen.
Georgina Ascroft, community archivist, said it was an important part of the town's industrial heritage.
The 14ft (4m) by 10ft (3m) oil painted silk flag depicts a group of railway workers being urged on to a better future by a classic female figure draped in a sash bearing the words, "light, education, industrial organisation, political action".
It will be the first time it has been on general show in its hometown since being paraded in the 1960s.
Bishop Auckland Station History Group member Gerald Slack said: "It's in tremendous condition and is a local treasure. It is fantastic that it is again now going on public display in its hometown."