Auckland Castle leisure park and light show approved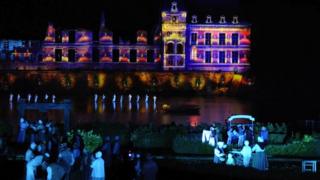 A £24m leisure park in County Durham has been approved.
County councillors unanimously granted planning permission for the Eleven Arches open-air light shows, historical re-enactment and park in the grounds of Auckland Castle, Bishop Auckland.
Businessman Jonathan Ruffer aims to attract 800,000 visitors a year, create jobs and boost the economy.
There had been concerns about noise and visual impact with planning officers recommending refusal.
Mr Ruffer intends to produce large-scale shows from 2016 and introduce an "historical" park in 2020.
Performances will be based on Puy du Fou, a historical theme park which has been running in France since 1978.
---
Analysis - Ian Reeve, Business Correspondent
The plans for Bishop Auckland's £24m Eleven Arches scheme - a nod to the nearby viaduct with 11 arches - are highly ambitious.
They are the vision of millionaire philanthropist Jonathan Ruffer, who has already bought Auckland Castle, restoring the traditional home of the Bishops of Durham.
About £90m will go into his projects, but Eleven Arches is surely the most ambitious of them, not least because it will be staffed by 600 volunteers for every night-time show during the summer, starting next June.
Workshops will be set up locally to create sets, props and costumes. In total, 1,000 volunteers will have to be trained, as well as 56 horses, to orchestrate what is said to be on par with the opening ceremony of London's 2012 Olympics.
If it comes off, the benefits will be immense.
Mr Ruffer's scheme is based on a project called Puy du Fou in the Vendee region of France.
Nearly two million visitors a year see outdoor shows at the theme park, which generates revenues of 74m Euros and has created 3,500 jobs.
Eleven Arches will be on a more modest scale, with 180,000 visitors envisaged between May to September.
---