Cleveland Police: Inquiry into handling of sex abuse claim against ex boss Dave McLuckie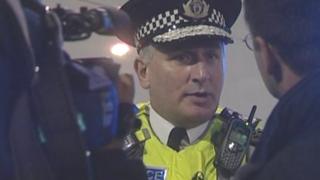 A watchdog is examining how Cleveland Police handled an historical sex abuse allegation made against its former police authority chairman.
The Northern Echo claims sacked former chief constable Sean Price "buried" an allegation against Dave McLuckie, 54.
The claim relates to when Mr McLuckie was 14 - which he completely denies.
The Independent Police Complaints Commission (IPCC) said it was examining how the case was handled when Mr Price was informed of the allegation in 2006.
Mr Price denied any wrongdoing and told the Echo that as chief constable he treated all allegations of historic sexual abuse "most seriously".
The Northern Echo quotes a confidential report from 2014 in which senior officers criticised Mr Price for failing to inform other managers.
Cleveland Police said it was made aware of the allegation in 2014, but that no arrests were made.
Mr Price was sacked from the force for gross misconduct in 2012.
He was investigated as part of Operation Sacristy - a long running investigation into police corruption.
In response to the news of the IPCC probe, Cleveland Police said: "The information available was reviewed and, to ensure a thorough investigation of the allegation, the victim was spoken to so as to move any criminal investigation forward.
"This investigation has progressed as far as possible at this time and no arrests have been made. However, police will look into any new information they receive."
The IPCC said: "We were made aware in October 2015, by Cleveland Police, of information relating to the way an allegation of non-recent sexual abuse that had been made against a man in 2006 had been handled.
"The IPCC is currently examining if these allegations were brought to our attention before 2015 and is engaging with the force to consider how to progress this matter going forward, if required."