Shane Tunney 'murdered after row over food throwing'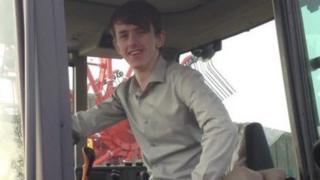 A man was murdered by seven teenagers after challenging them for throwing food at him and a friend, a court has heard.
Shane Tunney and his friend Anthony Kirk were attacked by the group on Norton High Street on 27 June last year, prosecutors said.
Mr Tunney, 24, suffered severe head injuries and died five weeks later.
The defendants are aged between 16 and 18 and deny murder. They also deny attempted grievous bodily harm.
Prosecuting at Teesside Crown Court, Andrew Stubbs said Mr Tunney and Mr Kirk were using a cash machine on the street when the seven defendants started throwing waste food down on them from the roof of a Tesco Express store.
He said Mr Tunney briefly attempted to climb up and stop them and minutes later the seven-strong group kicked and beat the two friends to the ground.
Mr Stubbs said Mr Tunney considered calling the police, and tried to get a taxi but the attack continued until he was left for dead.
There were tears from members of the public gallery as footage of his final moments before the attack were shown.
The film showed Mr Tunney using the cash machine as food dropped down on him.
Wider footage then showed the group of seven defendants with the victims.
Four 18-year olds, Kearon Terry Davis, Kieran Harry Davis, Jake Douglas and Brandon Pitt, are in the dock alongside two 17-year-olds and one 16-year-old who cannot be named.
The trial continues