Darlington hospital meeting 'told residents nothing'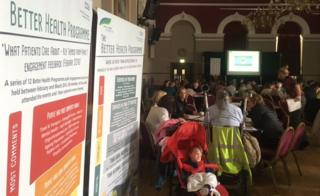 A hospital trust has been criticised for running a "masterclass in how not to do public consultation".
A public meeting was held amid fears Darlington Memorial Hospital could lose its emergency department.
MP Jenny Chapman said Saturday's meeting was "a very poor way to go about communicating with the public".
County Durham and Darlington NHS Trust and the area's clinical commissioning group are looking at the sustainability of services in the region.
Darlington Labour MP Ms Chapman said: "We are leaving as ill-informed as we arrived - they've told us nothing about their plans for Darlington.
"I have not a great deal of confidence that they're going to be taking our concerns all that seriously."
'Lack of knowledge'
Some changes, such as greater collaboration between GP practices, were welcome, she said.
But it seemed "pretty clear " that the intention was to cut or downgrade some of Darlington's services such as A&E, maternity and intensive care.
Commissioning group chair Dr Andrea Jones said fears centred on a "lack of knowledge" of what could be done differently.
"I know there are some fears about loss of services in Darlington and I'm really here to try to emphasise the fact that I do believe the services will be better in Darlington for patients," she said.
Pete Plant, from the town, said he was "absolutely appalled" at the possibility.
"The thing that really worries me is the potential loss of the A&E department because that could easily result in people dying," he said.
The trust is launching a public consultation into the region's services in November.