Cleveland Police chief recommendation made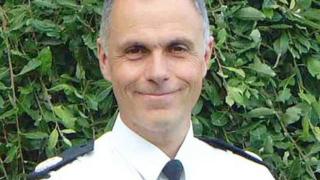 Cleveland Police's temporary chief constable is being recommended to take on the job permanently.
Police and and Crime Commissioner (PCC) Barry Coppinger is suggesting Iain Spittal be appointed when the Police and Crime Panel meets to discuss the job on 6 July.
The PCC said Mr Spittal was the sole candidate for the role.
He started policing in 1986 and has been temporary chief constable since January this year.
Mr Coppinger said he is making the recommendation after a "rigorous recruitment process" which included Mr Spittal being questioned by a panel of experts.
He said it is not unusual for there to only be one candidate for the role, as was the case when Mr Spittal's predecessor Jacqui Cheer got the job in 2013.
The commissioner said: "I can assure everyone that Iain has amply demonstrated his suitability for appointment as the dynamic, committed chief constable that Cleveland deserves."
Mr Spittal said "This is an organisation made up of people who are truly committed to protecting people from harm, go the extra mile on a daily basis and are committed to making the communities we serve stronger."