Benji Bolsenbroek death: Coroner rules fight 'contributed'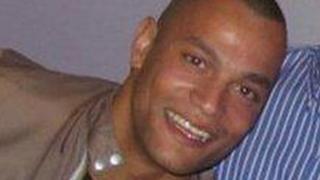 A fight contributed to the death of a Middlesbrough man but was not the only cause, a coroner has ruled.
Benji Bolsenbroek, 23, died in hospital after a disturbance outside the Park Hotel in Linthorpe in October 2013 - he had been celebrating his son's birth.
No-one was charged in connection with the death, although seven people were later jailed for violent disorder.
An inquest has been told that he died as a result of the disorder combined with cocaine and alcohol in his system.
Mr Bolsenbroek's death was treated as "unexplained" and following forensic examinations, police said his death was not linked to the trouble.
'Wild West'
In December 2014 an inquest was adjourned after "new medical opinion" was put to the coroner and a file was passed to the Crown Prosecution Service.
However, the following October the CPS said no charges would be brought due to "insufficient evidence".
The new inquest has now heard that Mr Bolsenbroek was involved in a large-scale brawl outside the public house, which was described as "like something you'd see in the Wild West".
About 20 people were said to have been involved with bottles, snooker balls, chairs and tables said to have been thrown.
Coroner Karin Walsh ruled Mr Bolsenbroek died "as a result of the effects of an episode of disorder in which he was a participant, which was exacerbated by the effects of cocaine and alcohol."
A narrative verdict was recorded.