Northumbria Blood Bikes charity service 'facing suspension'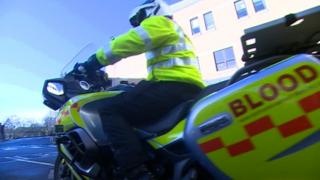 An out-of-hours motorbike blood delivery service is under threat after losing vital help.
Northumbria Blood Bikers was set up two years ago and, in the last year, 13 road crash victims have been saved thanks to its delivery service to the Great North Ambulance Service.
A call centre had been manning the phones but can no longer help.
Charity spokeswoman Debbie Pattern said more volunteers were needed or the service would be suspended.
The service, which provides at out-of-hours night and weekend service delivering blood products to North East hospitals, currently operates 365 days a year and does an average of 10 deliveries every evening.
Ms Pattern said: "We need more volunteers and co-ordinators to run our vital service and do shifts, but we are only asking for volunteers to commit to six hours a month.
"Call centre staff had been taking calls from customers and passing jobs on to the drivers, but could no longer help due to reasons beyond their control."
NHS Blood and Transplant delivers blood 24 hours a day, seven days a week but hospitals can choose to arrange their own transport with contractors, couriers or charity volunteers.
During the day some local hospitals use a courier service but, at night and at weekends, were previously relying on taxis to deliver blood from the Newcastle Blood Donor Centre.
All volunteer drivers are advanced-level trained motorcyclists and attend a blood handling course.