Killed great-grandfather 'had passion for motorcycles'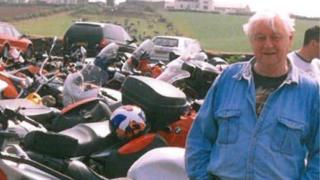 The family of a great-grandfather who died after a crash have spoken of his life-long passion for motorbikes.
Eric Winn, 72, died in hospital after his Suzuki motorbike and a Mazda collided on a minor road in Woodland, Bishop Auckland, on Wednesday morning.
The retired factory worker, from Stanley, was flown to James Cook Hospital in Middlesbrough where he was pronounced dead shortly after arrival.
His family said he was a "devoted motorcyclist of more then 56 years".
They added: "Bikes were his sporting interest and offered him the opportunity to explore our region, and beyond.
"He was a loving husband to Connie, who he had supported through her own medical issues over the last three years."
Durham Police said the driver of the car was shaken but unhurt in the crash.