Windlestone Hall home fraudster ordered to repay £100,500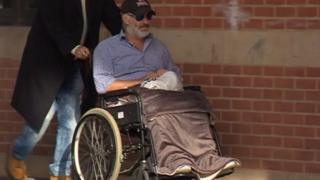 A man jailed after forging loan and mortgage applications to buy a stately home must pay back £100,500 or face a further 18 months in prison.
William Davenport was jailed for six years last September after purchasing Windlestone Hall, near Bishop Auckland, County Durham, in 2012.
The 61-year-old appeared at Teesside Crown Court via videolink for a Proceeds of Crime hearing.
He must repay the sum within three months.
Davenport's criminal activities had earned him more than £837,000, the court heard.
He purchased the property from Durham County Council for £241,000, with the local authority later criticised over the deal.
Just two years later the property was put back on the market with an asking price of £2.5m.
Davenport pleaded guilty last year to making fraudulent loan and mortgage applications and was described at the time by the judge as "thoroughly greedy".
Previously known as William Green, he had been made bankrupt three times and incurred a number of county court judgements.