Tempy's Darlington run for wounded soldiers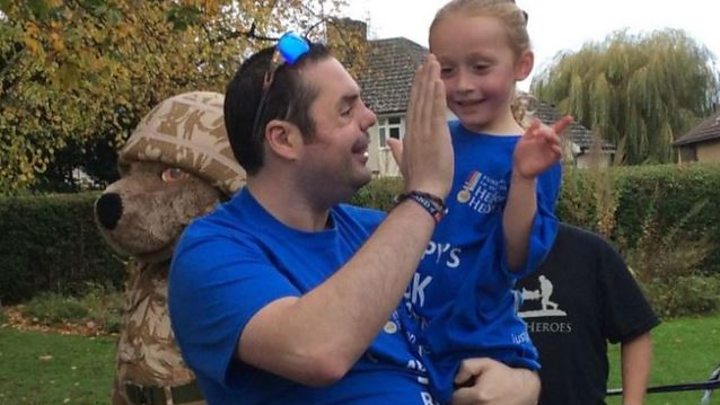 A five-year-old girl whose frank conversation with a blinded soldier went viral has run to raise more money for injured veterans.
Tempy Pattinson's video with Simon Brown, who was shot in the face in Iraq, has been viewed more than 100 million times.
She raised more than £2,500 for Help for Heroes by running the 5k park run in Darlington on Saturday.
Tempy, who lives in the town, said she had been "nervous" about the run.
But she did it because she wanted to help the soldiers, she said.
Mr Brown, from Leeds, said it was an "amazing achievement".
"With 100 million Facebook views on her video she's already inspiring millions of people and this will just help her inspire more," he said.
Tempy's mother, Emily Pattinson, said she was "so mature and caring and always wants to help other people".
"She just sets herself a challenge and wants to do it," she said.
"They keep getting bigger and bigger every time she does it - I'm worried that we're going to end up scaling Kilimanjaro or something."
Tempy has already done a triathlon to raise money for Help for Heroes and wants to try a longer swim.
Melanie Dickinson from the Help for Heroes northern recovery centre said Tempy was "just amazing".
It meant a lot for someone so young "to understand what it means to support soldiers who've been wounded and to be so enthusiastic and want to give something back", she said.
"That lovely video clip of them together, it is something that kind of comes from the heart."
The film was part of the Facing It Together series designed by Help for Heroes to highlight the bonds between fundraisers and those they have benefited.