Durham Tees Valley air show axed 'over safety costs'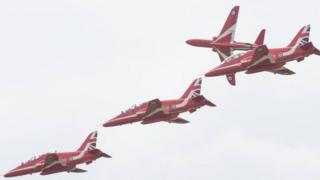 An air show has been axed after an airport pulled out of an agreement to host it.
The cost of increased safety requirements following the Shoreham disaster have left Durham Tees Valley Airport unable to afford to stage Skylive in 2018, its owners said.
The event was first held last year with about 18,000 people attending.
Skylive organiser Chris Petty said he was "gobsmacked and gutted" and would look for other venues to host the show.
Five-year agreement
An airport spokesman said it could not cover higher costs of meeting "increased regulatory and safety requirements" for the event, planned for 27 May.
He said the airport lost money on last year's event and one that had been scheduled in 2015, but was cancelled following the Shoreham crash.
He said: "We are not ruling out the possibility of holding air shows in the future but we would need to be confident that any proposal would be worthwhile for both the operator and the airport."
Mr Petty told BBC Tees he had a five-year agreement with the airport that was terminated after he refused to pay them more money.
He said: "I am gobsmacked and gutted they have pulled the plug."
He said he is considering a "couple of other locations" which he hopes will host the event.