Katrice Lee: Missing toddler case to be reviewed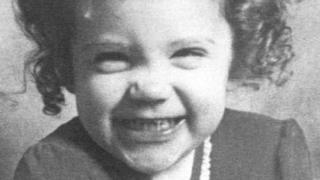 The government has agreed to review the case of a two-year-old girl who disappeared 36 years ago.
Katrice Lee, from Hartlepool, went missing from a Naafi supermarket near a military base in Paderborn, Germany, where her family was stationed in 1981.
International appeals have failed to find the toddler, but her family has never given up hope she could still be alive.
Defence Secretary Gavin Williamson said he was "happy" to sanction a review.
Mr Williamson was responding to a question from Hartlepool Labour MP Mike Hill in the House of Commons.
A re-investigation of the case, called Operation Bute, is already being carried out by Royal Military Police (RMP).
Katrice went missing on 28 November 1981 - her second birthday - while out shopping with her mother Sharon, from Gosport, Hampshire.
Mr Hill said: "As the Royal Military Police's Operation Bute is still live, will the Secretary of State agree to review the case and meet me, and my constituent Mr Richard Lee, Katrice's father, to discuss the matter?"
Mr Williamson said: "I should be more than happy to review the case and meet the honourable gentleman to discuss it in greater detail."
But Katrice's father Richard Lee described the offer a review as a "sham."
He said: "It's a sham and a purely paper exercise.
"They've just ticked a box and as far as I'm concerned it means nothing.
"Actions speak louder than words. They lost my trust when they admitted at the 30-year point that my family were not lying and that things were not done that should have been done in 1981."