'Sheer scale' of Hartlepool tyre dumping shocks council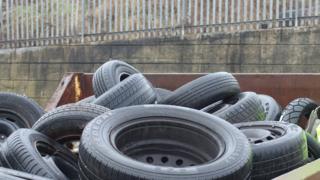 The "sheer scale" of fly-tipped tyres on Teesside has left officials shocked, Hartlepool Council has said.
Over five days, more than 300 were discovered dumped near the villages of Elwick and Dalton Piercy.
They were found at regular intervals on the roadside or in undergrowth, suggesting they were thrown intermittently from the same vehicle, the council said.
It added the cost of collection and disposal would be about £6,400.
A spokesman said: "Our cleansing teams just kept on bringing in the tyres and the sheer scale of the dumping has shocked us all.
"Another major concern is the safety of our staff as they work on the roadside to pick up the dumped tyres and remove them for disposal.
"Dumping is also a major blight on the environment and ruins people's enjoyment of the countryside."
The council is appealing for information.