Car crashes into Bishop Auckland house front window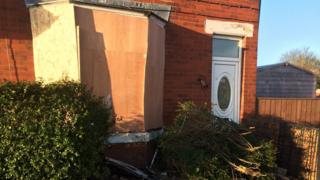 A couple said their living room was showered with glass when a car crashed into their County Durham home.
Anthony and Marcia Smith were watching TV when the vehicle ploughed into their front window after colliding with a bollard in Rosemount Road, Bishop Auckland, on Thursday night.
A 24-year-old male has been arrested on suspicion of dangerous driving.
The householders were not hurt but Durham Police said the suspect was treated in hospital for minor injuries.
Mrs Smith said: "We were just sat on the couch and the next thing we know we felt the wall shaking and the glass and bushes from outside just came into the living room.
"We ran upstairs to check the kids were OK, and I called the police.
"When I woke up this morning I had to go into the living room to check it wasn't a dream."
"Police were called at around 9.20pm to reports of a one-vehicle collision whereby the driver of a silver Volkswagen lost control of their vehicle, collided with a bollard and crashed into an address on Rosemount Road," a force spokesman said.