Consultant 'unavailable to take cancer patient's call'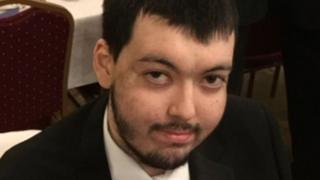 A cancer patient's call to a helpline days before he died was not dealt with properly, an inquest has heard.
Daniel Homer, 22, of Seaham was diagnosed with leukaemia in 2013 at the age of 18 and had a bone marrow transplant, but relapsed in 2016.
He felt unwell when he called the Patient Transplant Helpline in 2017, but a consultant was unavailable.
A nurse who took the call instead told the Sunderland hearing he felt it was not a "life or death" matter.
Mr Homer died from multiple organ failure and bronchial pneumonia five days after the call, in February 2017, at Newcastle's Freeman Hospital.
His father David told the inquest his son had been worried about his steroid medication when he rang the helpline, but said he was told there were no consultants available to talk to him.
'Nobody did anything'
"Daniel said he was unwell but nobody took that phone call," his father said.
The hospital's transplant nurse, Stephen Fox, told the hearing he answered the call in the absence of a consultant and did not feel he was dealing with a "life or death" matter.
But Daniel's father said: "Nobody did anything - that's the bottom line of it."
Consultant haematologist Dr Matthew Collins told the inquest he examined Mr Homer two weeks before he died but he did not listen to his chest because there was no sign of infection.
The inquest into Mr Homer's death is expected to last two days.