Bishop Auckland farm lambs killed in dog attack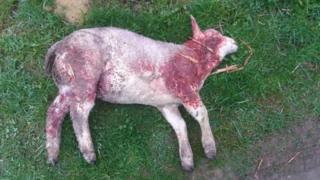 Two lambs have been killed and 10 seriously injured in a dog attack.
Durham Police is warning dog owners to keep pets on leads after a lurcher attacked the animals at Woodland House Farm in Bishop Auckland.
Farmer David Holliday said it was "very distressing" and "like nothing I'd ever seen before, they were ripped to shreds".
The lambs had puncture wounds from the dog's teeth marks and another of the injured animals might die, he said.
Seven lambs were killed in a dog attack at the farm last year.
Livestock worrying is a criminal offence and offenders can be imprisoned for six months and fined up to £1,000, Durham Police said.
PC Sarah Thompson said landowners had the legal right, under certain circumstances, to shoot a dog if their livestock is in danger.
"Dogs who may ordinarily be calm can become distracted and behave differently when in a rural environment where their sense of smell and chase instinct are stimulated," she said.