Witton Park remembers WW1 VC hero George Bradford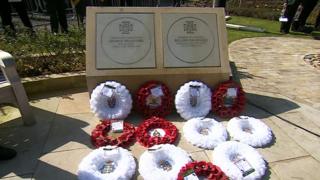 A former Durham pit village has paid tribute to one of only two brothers to receive Britain's highest honour for bravery during World War One.
George Bradford, from Witton Park, was killed in April 1918 during a naval raid on Zeebrugge in which he secured a landing vessel and took enemy fire.
The 31-year-old and Roland Bradford were the only brothers to receive the Victoria Cross in the conflict.
A commemorative stone has been unveiled to mark the centenary of his death.
George and Roland were two of four brothers who fought in WWI. James Bradford died during the Battle of the Somme in 1917, earning him a Military Cross.
Eldest brother Thomas was the only one to return home. He was later knighted for contributions to public services.
A commemorative stone celebrating Roland's honour, which was erected in 2017, was placed beside that of his brother.
More than a dozen family members as well as military and civic leaders were at Witton Park, near Bishop Auckland, for the service marking 100 years since the death of Lt Cdr Bradford.
His niece, Waveney Brooks, said: "It's amazing to think what they did. I think we should continue to remember what they all did then.
"I really would like to thank the people of Witton Park for all they've done."
Ossie Johnson, Durham County Council's cabinet member for tourism and culture, said: "George's heroism and that of his brothers is rightly still remembered today.
"We are proud to be able to complete a lasting memorial to the incredible gallantry and sacrifice they made."
In his Victoria Cross citation George Bradford's action was praised as "one of absolute self-sacrifice."
It went on: "Without a moment's hesitation he went to certain death, recognising that in such action lay the only possible chance of enabling storming parties to land."