Man arrested after three Northumberland farm fires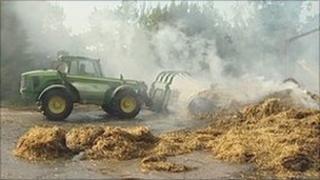 A 49-year-old man has been arrested on suspicion of arson after a series of farm fires in Northumberland.
Northumberland fire officers were called to three incidents within 24 hours including two barn fires started near Morpeth on Tuesday evening.
Police were forced to close a section of the A1 for two hours on Wednesday night due to thick smoke in the area after a fire at a farm near Belford.
A man from the Alnwick area has been arrested in connection with the fires.
Police have said straw bales were set alight during all three attacks.
The two blazes on Tuesday were 15 minutes apart. There were no animals in the barns at the time but a substantial amount of damage was caused.