Revamp for Newcastle's 'iconic' Byker estate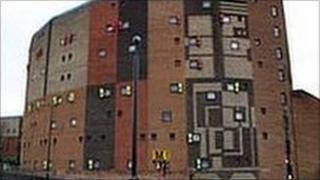 More than £2m is to be spent on reshaping part of an iconic Tyneside housing estate which has been shunned by tenants for a decade.
Bolam Coyne is a distinctive cluster of 17 flats that forms part of Newcastle's Grade II listed Byker Estate.
But complicated shared access through balconies and courtyards has resulted in them all being empty since 2000.
Now Newcastle City Council is funding a project to give each of the properties their own front door.
The estate, known locally as the Byker Wall, is an array of colourful flats, which were built between 1969 and 1982 to replace demolished terraced houses.
The estate was designed by prominent architect Ralph Erskine and listed Grade II in 2007.
Your Homes Newcastle, which manages Newcastle City Council's stock of 30,000 homes, will coordinate the refurbishment work.
The revamp will provide each home with its own front door at ground level that faces outwards, so enabling the creation of private gardens and a secure inner courtyard.
'Internationally-renowned estate'
Landscaping will also restore lost original features in the courtyard such as a rainwater-fed stream.
Carol Pyrah, North East regional planning and development director at English Heritage, said: "We have worked closely with all the partners involved in this scheme and are delighted to see building work about to begin.
"Bolam Coyne forms an important part of Erskine's internationally-renowned estate and has been derelict for many years.
"As well as improving the situation for residents, this scheme will repair and reuse an important part of our heritage."