Newcastle University wins solar-power plane contract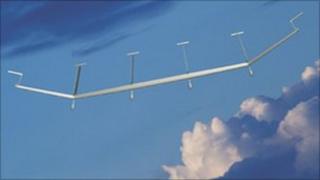 Engineers from Newcastle University have secured a contract to work on a solar-powered plane which will have a wingspan of 120m (394ft).
The SolarEagle project is being joint funded by the US government and Boeing.
It will be an unmanned plane which will have the capability to remain in the air continuously for five years collecting data.
The Newcastle team secured the contract from UK firm QinetiQ and will develop a motor for the plane.
It will be led by Professor Barrie Mecrow, head of the university's Centre for Advanced Electrical Drives.
He said the project would be a big challenge.
"In general, the more powerful a motor, the bigger and heavier it is," he said.
"In this case, the motor will have to be powerful enough to drive the propellers to get this gigantic plane off the ground while still being super efficient and incredibly light-weight.
"And the work is particularly challenging because the plane will be flying at a height of more than 60,000ft where temperatures can be below -60 degrees and conventional systems stop working."
The team hopes to have the first prototype of the plane's motors in the next six months.
A demonstration flight is due to be carried out in 2014.