Rescue teams in Northumberland training exercise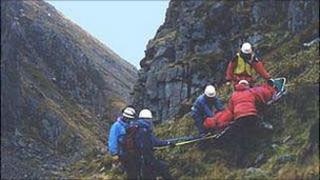 Emergency services and volunteers are taking part in a major training exercise in Northumberland.
The day-long exercise on Sunday, on land and off the coast east of Alnwick, involves mountain rescuers, coastguard and 202 Squadron from RAF Boulmer.
Organisers hope it will help teams learn more about each other's capabilities, skills and procedures.
The event will involve sharing new search techniques, casualty care and evaluating the use of helicopters.
Richard Holmes of the Northumberland National Park Mountain Rescue Team (NNPMRT), said: "We have worked closely with local HM Coastguard to plan a training exercise which will involve search techniques, helicopter operations and the retrieval of casualties from varied terrain.
"These training exercises provide excellent opportunities to work alongside other emergency services and to strengthen our skills."