Ship runs aground at mouth of River Tyne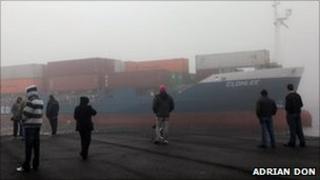 A container ship ran aground at low tide on the south side of the mouth of the River Tyne.
The "Clonlee" was heading for South Shields in the early hours when it suffered a power failure.
Coastguards said that two tugs went to the scene next to a small pier known as the Groyne. No-one was injured in the incident.
The vessel was refloated shortly after 1000 GMT and was docked on the Tyne.
Coastguards said there was no problem with pollution and the vessel was being checked.