Newcastle couple both fought breast cancer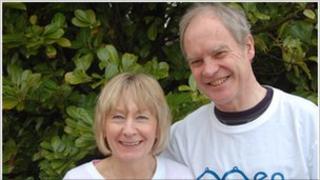 A husband and wife from Newcastle told how they supported each other when they both fought breast cancer.
Ann Cross, 60, was diagnosed with the disease in 2000 and had an extensive course of treatment.
Last year she and her husband Paul, 63, were shocked when he discovered a lump in his chest and when he had it checked was also found to have breast cancer.
The Gosforth couple were taking part in a five-mile challenge for Breast Cancer Care in Newcastle on Sunday.
Mrs Cross said it had been a "huge shock" when she was diagnosed with breast cancer but it was even greater when she discovered her husband was also ill.
She said: "It was a shock. Probably more of a shock in a way because it just seemed to come out of the blue."
'Amazing support'
Mr Cross said when he found a lump he suspected it was cancer because he had known another man who had had the disease.
He said: "I was just showering one day and and I thought there was a little lump in my chest so I probed around with my fingers - it was about the size of a pea."
Within a few weeks of being diagnosed, Mr Cross had a mastectomy and said his wife had given him a great deal of support afterwards having been through the same operation and that had helped him.
Mrs Cross had also had chemotherapy and radiotherapy, which her husband did not need.
Mr Cross said: "Ann was able after the operation to tell me a few things about what I might feel."
Despite the couple's ordeal, Mrs Cross said they did not feel angry about what had happened to them.
She said they wanted to take part in Sunday's event to give something back now they were at the stage where her husband was so far on from his treatment and was fine.
"We wanted to raise awareness and put something back in because we have had the most amazing support and treatment," she said.
"It's a sort of way of saying 'thank you'."