Newcastle soldier honoured for service in Afghanistan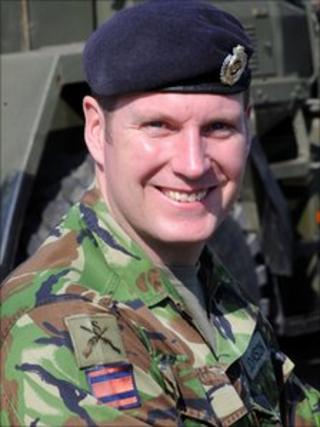 A Newcastle soldier has been honoured for the construction of a major road link under enemy fire in Afghanistan.
Staff Sgt Andrew Johnson, 33, of the Corps of Royal Engineers, managed the construction project in one of the most dangerous areas of Helmand province.
The road now links communities in Nar-e Sarej with those in Lashkar Gah, allowing better security and regeneration in the area.
He has been awarded the Queen's Commendation for Valuable Service.
The project, described by his commanding officers as "no mean feat", involved constructing a five-mile (8km) route through enemy-held territory, littered with improvised explosive devices (IEDs).
Sgt Johnson's citation reads: "He forced the pace and maintained the standards, working on the ground when he could easily have done the job from the comfort of an office.
"As progress was made, insurgent pressure grew with construction often completed under fire."
The married father of two sons said: "I am honoured, and really shocked to have received this award because I was just doing my job.
"We were deployed for several months and it was a completely different experience to what I had expected.
"It was tough at times working in the intense heat, and when our designed route kept getting changed and adapted to suit local plans.
"But it finally all came together and it's really rewarding to be recognised for the contribution we made over there."