Trawlermen rescued from boat fire off coast of Amble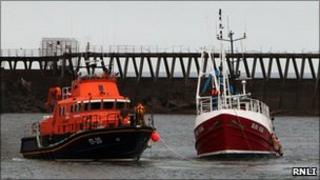 An RAF helicopter and a lifeboat helped rescue three trawlermen from a fishing boat which had caught fire off the Northumberland coast.
The wooden vessel, Green Pastures, was 24 miles (39km) from Amble when the coastguard received a Mayday radio call at 1057 GMT on Saturday.
The crew managed to extinguish the fire in the engine room using equipment on board.
The boat, which had lost power, was towed back to Blyth harbour.
There were no reported injuries.
Lifeboats from Tynemouth and Amble and a helicopter from RAF Boulmer assisted the rescue.
'Calm call'
Humber Coastguard said the incident could have "turned very nasty very quickly" due to the boat being wooden.
Graham Dawson, Humber Coastguard watch manager, said: "The skipper made a very calm call on the VHF channel 16 distress frequency.
"He gave a clear, accurate position which helped us get assistance to him quickly.
"His actions in closing the ventilation to the engine compartment and his use of the dry powder fire extinguisher probably helped save the vessel and prevent injury to the crew.
"Incidents involving fires on wooden fishing vessels often do not end as successfully as this."
The boat was closely monitored after the incident for signs of the fire re-igniting.