Blyth woman honoured for 30 years of volunteering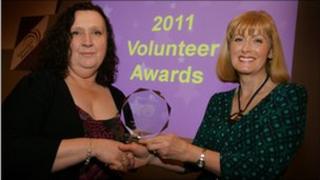 A woman from Blyth has received an award after 30 years of volunteering at a community centre.
Brenda Robinson has volunteered with the Cowpen Quay Community Association since 1980.
After developing a close relationship with the people at the Buffalo Community Centre, she quickly became a manager and has been there ever since.
She has now won an award for "Services to the Community" at PNE Development's 2011 Volunteer Awards.
Brenda joined the centre as a volunteer more than 30 years ago and took along her six-month-old daughter Sarah with her, ever since, mum and daughter have been volunteers.
Shortly after joining, she became treasurer and secretary for the Cowpen Quay Community Association.
Community spirit
Brenda, 55, was awarded for her outstanding volunteering work within society after being nominated by the centre's manager Eileen Cartie.
She said: "I didn't know I was put in for it. I was absolutely delighted with it. I don't think it's specially for me, it's for our association for doing well for so many years.
"We're there for the community, not for profit. I think that's probably how we've survived.
"We've been lucky enough to secure funding but the core of it is all volunteers and I think that's why it's lasted."
Buffalo Community Centre aims to cut anti-social behaviour by offering young people classes ranging from dance to judo as well as an art group for the wider community.
Brenda said: "We're trying to put on things that the community want, they come to us with their ideas as well.
"It's a vocal point for everybody. Being able to provide that sort of facility especially for young people, I think is really important and I think it's really important that we still keep that going."