Metro line between Tynemouth and Byker reopens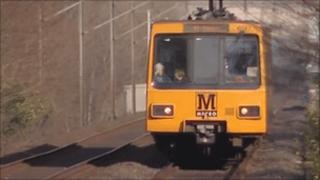 Services have resumed on part of the Tyne and Wear Metro, which has been closed for almost a month for modernisation work.
The £22m project closed the line between Byker and Tynemouth for 23 days from 12 March while the track, stations and bridges were revamped.
More than 500 contractors worked on what operator Nexus said was the biggest scheme of its kind in 30 years.
The UK's first urban light rail network began operating in August 1980.
Bus replacement services were in operation throughout the maintenance work.
Nexus project manager Emma Rowlings said: "This has been a novel experience for Nexus in that we have had to create a whole new set of rules in which we work to allow us to get all this done while maintaining our health and safety responsibilities to our workforce."
Nexus director general Bernard Garner added: "Work like this is as important as that date 30 years ago when Metro first operated."
Services resumed early on Monday, but passengers have been warned that some building work will continue at Howdon, Meadow Well and Chillingham stations for about three months.
More than 14,000 passengers a day use the stretch of line between Byker and Tynemouth.