Old cobbled street unearthed in Sunderland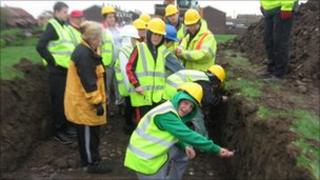 An archaeological dig in Sunderland has unearthed what experts say is a 250-year-old cobbled street.
The rediscovered street located in the east-end of the city is thought date back to around 1740 to 1780.
Archaeologist Nick Cookson said: "It's very exciting, we didn't expect to find something so easily."
The dig is part of the Sunderland Heritage Quarter's work to use local history to boost the area's regeneration.
The cobbled stones of the street were found within the first hour of the dig.
"At first we thought it was a concrete slab, but then what we thought was concrete turned out to be big stone blocks at the edge," Mr Cookson said.
"In between you can see these cobbles, clearly there from a street, you can see the camber... we think it looks tailor-made for horses to walk on."
Co-ordinator at Sunderland Heritage Quarter, Gill Cookson, said: "We've just had our grant renewed from Sunderland City Council.
"That's massively helpful because we know we've got funding for the next two years.
"We're trying to get lots of activities going and it's just a campaign to regenerate the east-end using heritage to bring it back to life."