Mail suspended to Northumberland dog bite judge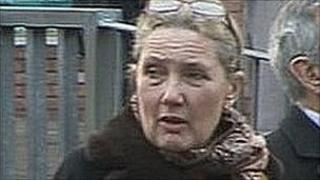 Police are investigating after a postman was bitten by a dog near the home of a judge convicted of failing to control her German shepherd.
Royal Mail has now suspended deliveries to the home of Judge Beatrice Bolton and two neighbours in Whitton, near Rothbury in Northumberland.
Northumbria Police said the identity of the animal responsible for the attack was under investigation.
Judge Bolton, 57, was fined £2,500 in December last year.
A Northumbria Police spokesman said: "On Saturday, 9 April, police received a report that a man had been bitten by a dog in the Whitton area of Rothbury.
"The man attended a local hospital for treatment to an injury. Inquiries into the incident are ongoing."
A Royal Mail statement added: "The suspension of mail deliveries is a last resort.
"Regrettably, following an incident on 9 April, when a postman was bitten by a dog while delivering mail in the Rothbury area, we have been forced to suspend mail deliveries to three properties.
"We want to resume deliveries as soon as possible when our postmen and women will not be at risk of a dog attack.
"We have notified customers at all three addresses and informed them that they can collect their mail from Morpeth Delivery Office.
"In the meantime, we apologise for any inconvenience this may cause."
Judge Bolton, who works at Newcastle Crown Court, has not sat as a judge since being convicted at Carlisle Magistrates' Court of failing to control her German shepherd puppy Georgina.
The dog had attacked the 20-year-old son of her next-door neighbour in May.
She denied the charge under the Dangerous Dogs Act and is understood to be considering an appeal against her conviction.
A spokesman for the Judicial Communications Office said: "We can confirm that Judge Bolton has agreed not to sit pending the outcome of an investigation by the Office for Judicial Complaints arising from the earlier events."
Judge Bolton was not available for comment.