Newcastle balloon stuntman's 12-hour challenge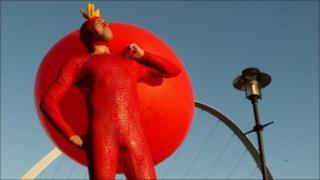 A man from Tyneside will be performing challenges set by the public for 12 hours while inside a big balloon.
Steve Cousins will be performing the challenges at the British Juggling Convention in Nottingham.
His giant balloon routine has taken him to 16 countries and he has appeared on ITV's Britain's Got Talent.
Mr Cousins, 32, is also a director of the Circus Central project, which will be the region's first circus school.
People are being asked to pitch their ideas for Steve on his Facebook page and he will perform some of the most daring ideas on Saturday 16 April.
Examples of suggested challenges include doing backward somersaults and making a balloon model of himself while inside the balloon.
Mr Cousins said: "I'm expecting, over the course of the day, there will be quite a few pops, so I'll make that part of the game and I have lots of balloons in reserve.
"This is going to open up my world of what is possible whilst inside a balloon."