Green light for Newcastle's Science Central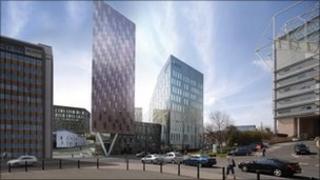 Plans for a new science-based development in Newcastle have been given the green light.
Development company, 1NG, wants to create Science Central - a research building - on the site of the former Scottish and Newcastle brewery.
It is hoped the development will generate £255m investment over 15 to 20 years and create up to 1,900 jobs.
Newcastle City Council has granted outline planning permission for the development.
A spokesman for 1NG said: "Science Central is a truly visionary plan to further accelerate Newcastle as a city of science."