North East football fans offered blood pressure tests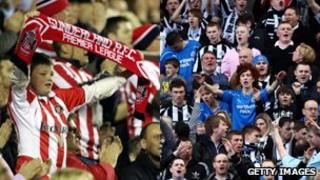 Newcastle and Sunderland football fans are being offered free blood pressure tests at the teams' stadiums to raise awareness of the causes of strokes.
The Stroke Association is visiting St James' Park and the Stadium of Light - and this challenge is one that both sides will definitely want to lose.
Every week 45 people in the north-east of England die from a stroke caused by high blood pressure.
The charity believes that 40% of strokes could be avoided if people detected their high blood pressure before it was too late.
Peter Moore, from The Stroke Association North East, said: "We really thought that targeting football, and the Premier League in particular, was a really good area to start with.
"Men tend not to go to the doctors or take medical advice, so what we're trying to target is people who don't actively look after themselves or take medical advice and, unfortunately, that tends to be men."
Stroke survivor
Andy Jones came up with the idea to visit every Premier League football ground in five days to find out which team's supporters have the highest blood pressure.
St James' Park and the Stadium of Light are last on the list.
Mr Jones had a stroke seven years ago when he was only 40 years old.
He said: "When it was diagnosed it was down to high blood pressure, which was something I was living with and I didn't know.
"I had it, but it was undiagnosed and that is what we call the risk factor - of not knowing that you have high blood pressure.
"It was very scary at 40 years old, to me a stroke was something that happened to people in their 70s, but I've found out having gained knowledge of strokes that it can happen to anybody at any time."
Mr Jones has so far found that football fans in Fulham are at the top of the league with the best blood pressure with Man City at the bottom.
To find out more visit The Stroke Association - The North East website.