Northumbria University to charge £8,500 tuition fees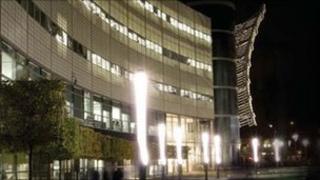 Northumbria University has confirmed that it wants to charge £8,500 a year in tuition fees from 2012.
It also announced a £14.5m per year bursary and scholarship scheme to help those from lower earning backgrounds
The university said this would be likely to benefit almost 40% of those attending.
The Northumbria Students Union said it would work with the university to ensure it provided the best value and quality for its students.
Neighbouring Newcastle University plans to charge the full £9,000 fee.
'Outstanding quality'
Professor Andrew Wathey, the university's vice chancellor, said: "This university has determined its fee through a rigorous process in which it has actively engaged with the University's Students' Union and its staff.
"Today's decisions reinforce the university's long-term and long-standing commitment to continuous improvement across all of its activities and will help ensure that it is strongly placed to respond to the opportunities and challenges ahead, and will continue to educate the leaders and entrepreneurs of the future."
Adam White, president of local student's union, said that while it opposed the national increase in the cap on tuition fees, it recognised that it was in the university's interests to charge a fee which "reflected the quality of the institution and its qualifications".
He added: "We will work closely with the university to ensure that it delivers outstanding quality and value for money to students, and that it continues to work hard to engage with the local community and attract students from disadvantaged backgrounds."