Cannabis farm found in Newcastle house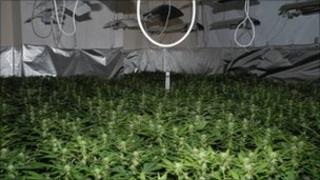 Almost 1,000 cannabis plants with an estimated value of £500,000 have been discovered at a house in Newcastle.
Northumbria Police said they acted on information to search the property in Trewhitt Road, Heaton, on Thursday morning.
They found the plants in several rooms in the house. Officers are now trying to trace the occupants.
Police urged people to report anything suspicious and for landlords to be vigilant.
A Northumbria Police spokesman said: "Residents should also ensure they report... unusual activity and smells, as well as blacked out windows to police so we can investigate."