Avocet breeding hopes for Wearside wetland centre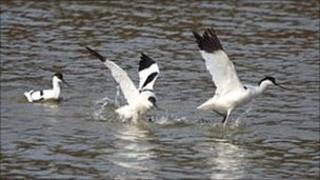 Staff at a Wearside wildlife reserve are hoping a further pair of rare wading birds will make it their home.
Avocets first nested at WWT Washington Wetland Centre in 2006 and the same pair has returned every year.
A further male and female have arrived, and it is hoped both pairs will nest, making the reserve the most northerly breeding colony of avocets in the UK.
In 2009 another pair arrived, but were chased away by the resident couple before they could breed.
This year all four seem to have settled and hopes are high that both pairs will produce young.
The avocet was declared extinct as a breeding bird in the UK in 1842 but began to recover in 1947, although they mostly nest in southern England.
Leanne McCormella, from the centre, said: "Providing they have a successful nest, avocets become loyal to the same site for their entire lives, so hopefully this new pair will hatch healthy chicks and continue returning to WWT Washington for many years to come."