Police quiz Judge Beatrice Bolton over postman dog bite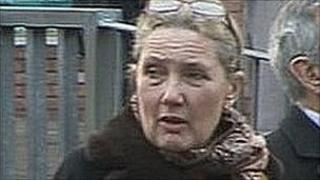 A crown court judge who was convicted of failing to control her German shepherd has been questioned by police after a dog bit a postman.
Judge Beatrice Bolton was interviewed after the incident earlier this month near her Northumberland home.
Post deliveries to her home and those of two neighbours in Whitton, near Rothbury, were suspended for inquiries.
Judge Bolton, 57, was fined last year after her dog Georgina attacked her neighbour's son as he sunbathed.
In the more recent incident, postman Kenneth Auld was treated in hospital after his leg was bitten while he made a delivery on 9 April.
It is understood he was delivering a letter to the judge's neighbours' house.
'File being prepared'
A file has been passed to the Crown Prosecution Service, which will decide if any charges are to be brought.
A Northumbria Police spokesman said: "A 57-year-old woman from the Rothbury area was interviewed by police on Saturday 16 April in relation to an allegation of a dog biting a man on Saturday 9 April.
"A file is being prepared for the CPS."
Last year the judge was convicted and fined £2,500 for failing to control her dog, which attacked the 20-year-old son of her next-door neighbour.
After the hearing at Carlisle Magistrates' Court, the judge stormed out of the court and swore, calling it a "travesty".
She has not sat at Newcastle Crown Court, where she usually works, since the case in December.
It is understood she is considering an appeal against her conviction.