Tide cut-off woman rescued from South Tyneside beach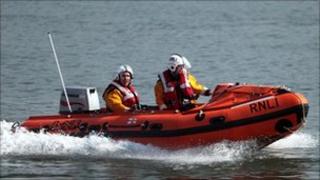 A 64-year-old woman was rescued by a lifeboat crew after her attempt to swim to safety when she was cut off by the tide on a South Tyneside beach failed.
The woman tried to swim round rocks on Tuesday afternoon when she realised she had become stranded on the beach at Frenchman's Bay, near Marsden.
A passer-by on a nearby cliff top heard her shouts and alerted the coastguard.
Tynemouth RNLI inshore lifeboat was launched and made what the crew described as a "difficult" rescue.
Crew member Jill McCormick said: "The rescue was difficult and we had to judge our entry onto the beach very carefully.
"The tide was coming in rapidly and although the casualty was on land there was no way off the beach other than in the lifeboat.
"We made a fast run into the beach and I climbed ashore to help the lady across the very slippery rocks and onto the lifeboat."
The woman was said to be distressed, cold and wet and she was taken to hospital.
The RNLI urged people to be aware of the tides.