Woman denies 'bang, bang' remark to Pc David Rathband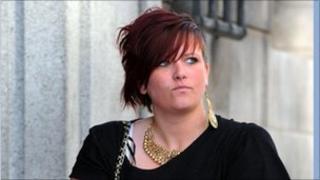 A woman accused of saying "bang, bang" to the policeman blinded by killer gunman Raoul Moat has pleaded not guilty to a public order offence.
Kelsey Donkin, 22, allegedly made the comment when Pc David Rathband arrived at Newcastle Crown Court for the trial of two men accused of helping Moat.
Pc Rathband attended court most days with his wife Katherine.
Ms Donkin, of Stamford Avenue, Sunderland, appeared before magistrates in Newcastle.
She was arrested after allegedly making the comment and a gun gesture with two fingers behind the officer's back as he attended Newcastle Crown Court on 2 March.
Ms Donkin will next appear at Newcastle Magistrates' Court on 27 June accused of using threatening words and behaviour to cause Pc Rathband distress.
The unarmed Pc lost his sight after Moat shot him in the face twice, 24 hours after he murdered his ex-girlfriend's new lover and seriously injured her.
Minutes before Pc Rathband was shot in the face, Moat had called Northumbria Police and said he intended to target other police officers.
Following the shootings, a manhunt started for Moat. The 37-year-old died after a six-hour stand-off with police in Rothbury, Northumberland, on 10 July.
Karl Ness, 26, and Qhuram Awan, 23, were found guilty of helping Moat. Ness was given a 40-year minimum term, and Awan must serve at least 20 years.