Durham church bells peal for first time since 1929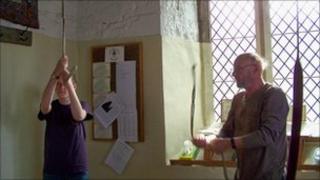 The bells at a church in Durham have been pealing for the first time in more than 80 years in honour of the royal wedding.
The bells at St Nicholas Church - five dating from 1687 and one from the late-1800s - had recently been refurbished.
They have been rung since, but not pealed, which involves the six bells being rung in sequence 5,000 times.
Dorothy Nicholas, bell ringer and secretary of the refurbishment project, said a peel can take up to three hours.
She said: "I know the word 'pealed' is used for when bells are sounding, say, in an evening or across a meadow but, technically, the term peal should only be used when there are a minimum of at least 5,040 changes rung."
In a "change" each bell is rung once. The order in which they are rung varies with each change.
Mrs Nicholas said ringing the bells at the right time when the order kept changing was difficult.
She said: "You have to know these methods by heart, obviously, know completely where you're going with your bell.
"Each bell can only move one place at a time - it can't jump from ringing in sixth place to ringing in first place.
"Then it's done by what is called rope sight - you don't listen to the bell before you when you ring because the gap would be much too long, so you watch the ropes around you."
St Nicholas's bells - last pealed in 1929 - had fallen into such disrepair that in recent years they had been declared too unsafe to ring at all.
In 2009 the bells were taken to one of only two bell foundries left in England - Whitechapel Bell Foundry in London - to be cleaned and retuned.
Mrs Nicholas said: "When our bells came out they couldn't be lowered completely inside the church, we had to have the scaffolding and, of course, we're right in the market square in Durham.
"When these six bells came down the scaffolding and we had this huge lorry thing up from London, it was quite an event."