Newcastle rally condemns cuts in spending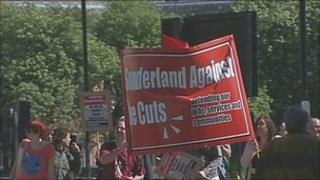 Hundreds of people are taking part in a march and rally in Newcastle against government spending cuts.
The event, organised by the Northern Regional TUC, also includes student organisation angry at recent hikes in university tuition fees.
The march began at the Centre for Life in Newcastle, and will end at the city's Exhibition Park, where invited speakers will address the crowd.
Northumbria Police said there would be a low-key police presence.
Event organiser Martin Levy said: "All the signs are that this is going to be our best-attended event for many years.
"People are recognising the full implications of government policies and they are not prepared to sit back and just let the cuts happen."
The government says cuts are necessary to reduce the UK's £155bn deficit and strengthen the UK's economy in the long term. It aims to save £83bn in four years.