Revamp plan for Tyne pedestrian and cyclist tunnel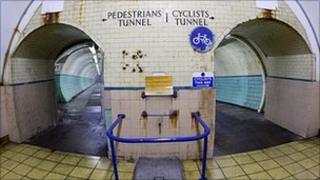 Plans for a multimillion-pound upgrade to the Tyne pedestrian and cyclist tunnel have been submitted.
As part of the £6m project, the Tyne and Wear Integrated Transport Authority (TWITA) wants to replace two of the original wooden-step escalators.
There would also be repairs to the damaged tile lining of the Grade II-listed structure, and improvements to the lighting.
In addition, the entrance rotundas at Howdon and Jarrow would be restored.
The application will now be considered by the planning authorities at North Tyneside and South Tyneside councils.
Paul Fenwick, project director for TWITA, said: "The tunnels have been providing an important link under the Tyne for 60 years.
"However, in recent years the age of the equipment has led to increasing frequency of breakdowns and has meant our customers have not received the reliable service they deserve.
"This refurbishment will see these tunnels enter a new and exciting era, providing an efficient and reliable service to the people of Tyne and Wear and beyond."