North East councils cut social care budgets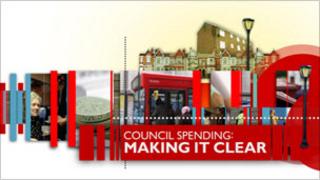 Two councils in the north east of England are among the three making the biggest percentage cuts to their social care budgets, a BBC survey suggests.
Gateshead estimated it would make an 18.98% cut in 2011/12 while Durham expects to make a 18.15% cut.
The English Community Care Association said people with acute social care needs could be left without support.
Gateshead said its budget was supplemented with grants and other savings, resulting in a 9.1% reduction.
Durham said that it was working to ensure that people reliant on services would continue to receive them.
Social care is one of the largest costs for English councils - last year it came second only to education.
Authorities such as Durham are attempting to move away from old-style residential care and day centres and closing them in favour of what are described as more personally-provided individual care budgets.
'Difficult decisions'
Under these, adults who need care apply for council funding which is based on an assessment of their needs.
The money can be provided directly to the user in cash, or held and used on their behalf by a council or private care firm.
The Council Spending: Making it Clear survey showed that the Labour-run Durham County Council's spending on social care was £235.5m in 2010/11 compared to an estimated £192.7m in 2011/12.
The county council has to cut £125m from its overall budget over the next four years.
Nick Whitton, head of commissioning for adult services, said that "difficult decisions" had to be made, and all areas, including social care services, would be affected in some way.
"However, during a public consultation, residents singled out adult care services as an area of spending which they wished to see protected and, as a result, we have sought to preserve these services as much as possible," he added.
"We would, therefore, like to reassure residents that we are making every effort to ensure that people who require and rely on services continue to receive them.
"Furthermore, any changes to the services an individual receives will be based on a full and thorough assessment or review of their needs."
The figures, obtained by the BBC from the council, and independently verified by the Chartered Institute of Public Finance and Accountancy (CIPFA), showed that Gateshead Council's spending on social care in 2010/11 was £89.6m, compared to an estimated £72.6m in 2011/12.
'Impact minimised'
However, the Labour-run council said this did not take into account a grant from the primary care trust and efficiency and voluntary redundancy savings, which brought the reduction down to about £8m.
David Bunce, group director of community based services, said: "Gateshead Council was required to find £33m in savings from this year's budget due to cuts in government funding.
"As a result, the council had to work extremely hard to ensure that the impact of these cuts on front line services was minimised.
"Social care was a particular priority for us, as these services are generally targeted on some of our most vulnerable residents.
"The savings we have made are the result of greater service efficiencies and better contract arrangements with our care providers rather than from reductions in levels of care."
Martin Green, chief executive, English Community Care Association, described the level of cuts across councils as "particularly worrying".
He said: "This will mean many people with acute social care needs will be left without support, and the fact that services will be cut back will leave many people going into crisis and being rushed to hospital.
"The other issue that is little understood is that in places of traditionally high unemployment, social care work is a vital part of the local economy.
"Social care is about everybody in the local area, whether they are directly involved in it or not."