Gateshead community fire station shut after burglary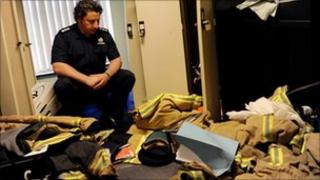 A community fire station has been forced to close after being ransacked by burglars who stole thousands of pounds worth of equipment.
Firefighters at the Gateshead West Community Station in Chopwell, said they were "disgusted" after their offices were targeted on Thursday.
The station will be closed until Friday with cover being provided from other Gateshead stations.
The station has one appliance and is staffed by 12 part-time firefighters.
As well as providing an emergency service the station is used to promote fire safety in the local community.
Area manager Chris Lowther, of Tyne and Wear Fire and Rescue Service, said: "We are absolutely appalled that someone could stoop so low as to actually break into, steal from and seriously damage a fire station.
"We are here to protect the community and cannot believe anyone would want to stop us from being able to do this.
"I'm sure local people will be as shocked as we are to hear this news."