Tyne Tunnel sun visor in Jarrow to be demolished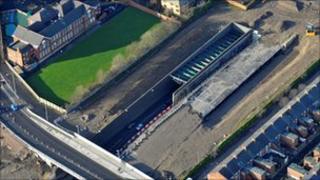 The sun visor at the Jarrow entrance of the original Tyne Tunnel will be demolished on 7 and 8 May.
The new roof of the entrance will be covered over, grassed and opened up for the public to use.
The original tunnel will remain closed until the end of the year so the rest of the major refurbishment work can take place.
Once reopened, the entrance of the tunnel will use artificial light instead of sunlight.
The visor was built in 1967 when the tunnel was first built.
The new Tyne Tunnel opened in February meaning the original tunnel could be closed for refurbishment.
Once the work is complete, both tunnels will open for the public to use.