Man dies in Sunderland house fire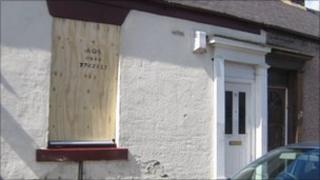 A man has died in a house fire on Wearside from which two teenagers and a woman managed to escape.
The fire broke out in the bedroom of the property in Washington Street, Millfield, Sunderland, in the early hours of Tuesday.
Three people escaped before crews arrived, and firefighters wearing breathing apparatus later found the 46-year-old man dead in the bedroom.
It is not believed there were any fire alarms fitted at the property.
A spokesman for Tyne and Wear Fire and Rescue Service, said: "Six firefighters entered the property with specialist breathing equipment and protective clothing to rescue the man, but sadly they discovered him deceased in the bedroom, where the fire started.
'Vital minutes'
"The fire was well developed and the crews were faced with intense heat and heavy smoke logging.
"The cause of the fire is currently being investigated but it is not believed to be malicious.
"At this early stage of the investigation it is believed that the house did not have any smoke alarms.
"Our thoughts and wishes are with the family and friends at this very sad time."
The spokesman said that householders should have smoke alarms fitted and check them once a week.
He added: "They really can be the difference between life and death, providing early warning of a fire and vital minutes to escape."