Sunderland boxer aims for punchbag world record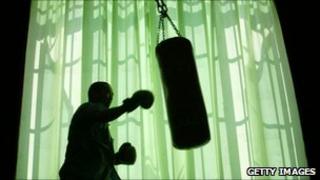 A man from Sunderland is aiming to box his way into the Guinness World Records by taking part in a punchbag marathon.
Andy Ross from Seaburn has set himself the challenge to hit a punchbag non-stop for 40 hours.
He hopes to beat the current record of 37 hours and 30 minutes, which is held by former kick boxing champion Bernard "Swiftkick" Robinson.
The challenge is also to raise funds for charities Cancer Research UK and the NSPCC.
The 26-year-old has already held two Guinness World Records.
He managed to set the record for 10,000 press-ups in nine-and-a-half hours in 2008 and 3,064 press-ups in one hour in 2007.
Watched by judicators
However, this will be the biggest record-breaking attempt he has done so far.
He said: "I'm super fit. I'll start 5 o'clock Friday afternoon and I'll finish 9 o'clock Sunday morning.
Mr Ross will only be allowed a two-minute break every hour and will be recorded by Spark FM and watched by official judicators.
He said: "I like to prove I'm one of the best at what I do.
"I've put my training up a bit, I've been doing 3,000 press-ups every morning and I've been doing a lot more bench pressing than I normally do.
"I've been working a lot on my legs, doing squats and heavy lifting because it's mostly to do with your back and legs."
The challenge takes place on Friday, 20 May at Unity Gym, County Durham.