BBC Introducing: Cult Image from Newcastle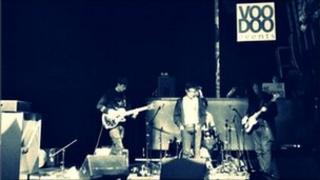 Cult Image from Newcastle have been friends since school - but only realised their combined musical talent around one year ago.
Their indie style comes from an admiration of The Smiths and Echo & The Bunnymen - they are the reasons they got into music.
Inspired by the likes of Wild Nothing, The Pains of Being Pure at Heart and Best Coast - it is this genre that inspired them to have a go at writing their own music.
The four-piece band is made up of Sean McMahon (vocals), Fintan Dawson (drums), Chris Knight (guitar) and Anthony Hetherington (bass).
Only playing their first gig together around one year ago, their career has gone from strength to strength.
Bassist Anthony said: "For myself, the band is very important. It's all about being part of something and having a creative outlet.
"I think we all thrive off writing and performing our music, and I know we all enjoy writing music that people can really enjoy.
"We just want to be ourselves, write our own music and hope that people enjoy it."
Music scene
Focusing their efforts on the local music scene has proven a good move for Cult Image, already playing NARC. Fest and bagging a spot at this year's Evolution Emerging.
Anthony said: "Being part of Newcastle's music scene is also really important, there's a lot of great bands coming out of Newcastle at the moment, and to be part of it is an exciting time.
"Evolution Emerging was a great event to be a part of. It was really positive for us, despite us being on first it was already one-in-one-out, and the feedback we've had has all been positive, so we couldn't be happier with how it went."
This summer the band are hoping to release two 7" vinyl singles and record new songs.
To find out more about Cult Image, visit their Facebook page.